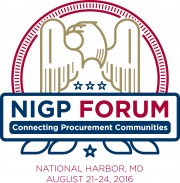 Every summer NIGP hosts 'Forum' the largest gathering of public procurement officials in America. NIGP Forum includes over 60 educational workshops, networking activities, and an award-winning products exposition that boasts over 200 suppliers showcasing the latest products and services available to government.
Awesomeness…it's something you do every day and in every way. From sharing a cup of coffee and a smile with a colleague or loved one to offering a tip on how to word that solicitation to save your entity thousands of dollars to procuring bullet-proof vests that will save lives. It's just who you are and what you do. You are the definition of awesome.
So what happens when nearly 1,000 awesome public procurement professionals gather in one location for the largest educational event in North America? You experience Forum AWESOMENESS. There's something incredible that happens at Forum. It's that overwhelming feeling that someone else understands. There's a camaraderie that's indescribable and irresistible.
Join us for NIGP Forum 2016 on August 21 – August 24 in National Harbor, Maryland and revel in the awesomeness. 900.00
Share: